More than Thousands of projects were successfully completed all over the country. More than five hundred clients are being served through Sonar Bangla Survey Consultants.
Featured Projects As A Land Survey Company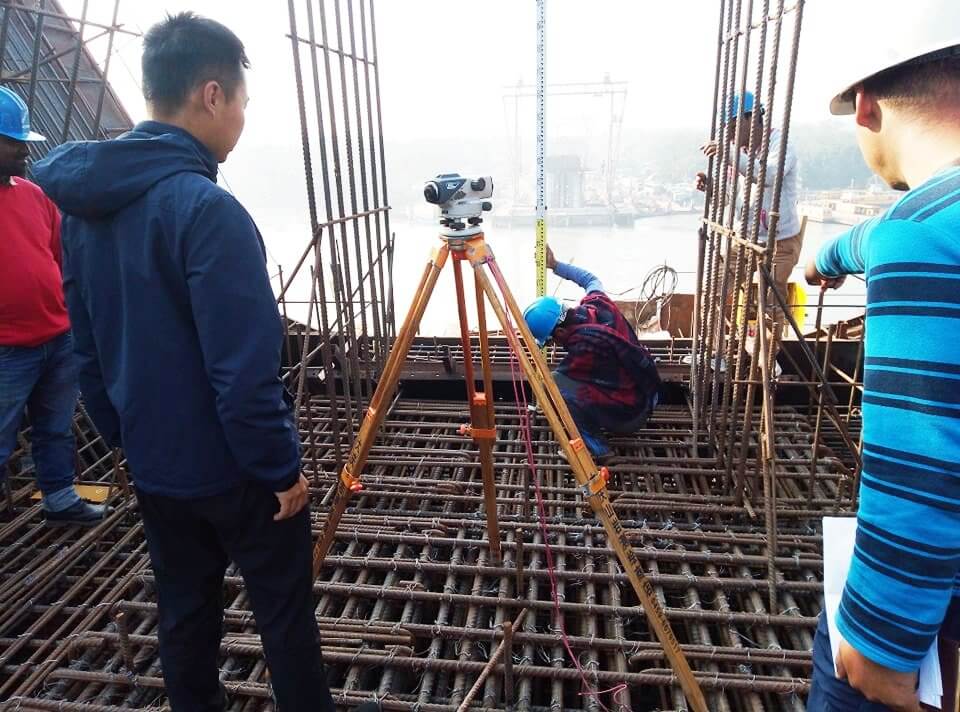 Owned partners as a Land Survey Company
We work with different types of organizations like…..
Public Agencies
Engineering Firms
Private Contractors
Architects and
Land Owners
And we owned some ultimate partner as Land Survey Company.
S.L NO
Units
Clients
Consultants
S.L NO. 01
Digital Topography & Contour Survey ,at Anggarjur, Beanibazar,Sylhet.
93.00 Bigha
Kushiyara Auto Bricks Ltd.
S.L NO. 02
Digital Topography Survey & Cross Section at Square to Modena Market Point, Sylhet.
10.850 km.
Joney Enterprise Ltd.
Sylhet City Corporation (SCC)
S.L NO. 03
Digital Topography & Contour Survey at Uttar Hazipur (BALABARI) Tara Ganj, Rangpur.
12.676 Bigha
ARISTOCRAT Builders Ltd.
S.L NO. 04
Interior Digital Topographic Survey at 22/58 Kanchpur, Sonargaon, Narayangonj,Dhaka.
2.6 Bigha
Esquire Group
S.L NO. 05
Digital Topography & Contour Survey at Barasur, Kashiani, Gopalgonj.
315.55 Bigha
Rumi Fish Feed Industries Ltd.
S.L NO. 06
Interior Digital Topographic Survey at Dhaka- Mymensingh Hwy Road.
3.5 Bigha
Fu-Wang Ceramic Industry Ltd.
S.L NO. 07
Route Survey & GPS Survey from Jigatola to Dhaka Uddan 132/33 kv Line
5.751 km.
BNF Engineers Ltd.
LS CABLE & SYSTEM LTD.
S.L NO. 08
Digital Topography Road Survey from Chakrampur GC to Kalirbazar GC Road. At Trisal, Mymensingh.
11.710 Km.
Local Government Engineering Debartment (LGED)
S.L NO. 09
Digital Topography & Contour Survey at Gochinga, Sreepur, Gazipur
37.325 Bigha
Anoara Knit Composite Limited
CIVICON ENGINEERING
S.L NO. 10
Route Survey & GPS Survey from PurbachalPGCB toBananiDesco Substation 132 kv Line.
15.850 Km.
BNF Engineers Ltd.
LS CABLE & SYSTEM LTD.
S.L NO. 11
Details Digital Topographical Land Survey,DigitizedMap,GPS& Leveling Survey at Savar, Dhaka.
37.169 Bigha
C.R.P. AUTHORITY
S.L NO. 12
Digital Topography & Contour Survey at Adamjeenagar, Siddirganj, Narayanganj.
3.4 Bigha
Checkpoint Systems Bangladesh Ltd.
ENGINEERS CONSORTIUM LIMITED
S.L NO. 13
Column/ Pile Layout Per Drawings at Plot-1/B, Road-51, Gulshan-2, Dhaka.
N/A
Business DEAL
S.L NO. 14
Column/ Pile Layout Per Drawings at Anggarjur, Beanibazae, Sylhet.
N/A
Kushiyara Auto Bricks Ltd.
S.L NO. 15
Digital Topography & Contour Survey at Nagori Kaliganj, Gazipur, Bangladesh.
23.500 Bigha
PURBACHAL APPAREL LIMITED.
Univend Structural Steel Ltd.
S.L NO. 16
Digital Topography & Contour Land Survey at Sreemangal, at Moulvi Bazar
4.6 acre
Space Architecture Engineer Ltd.
S.L NO. 17
Route Survey& Contour Survey, GPS Survey, GIS Map from PurboSadipur to Barapukuria
58.45 Km.
Power Grid Company of Bangladesh (PGCB)
S.L NO. 18
132kv Transmission Line Survey, Topography Survey, Contour Survey ,GPS Survey from Madaripur to Gopalganj at Madaripur.
43.863 Km.
Power Grid Company of Bangladesh (PGCB)
S.L NO. 19
Digital Topography & Contour Survey at Jatrabari Park, from Jatrabari, Dhaka.
2.52 acre
Dhaka South City Corporation (DSCC) Zoon -05,Saydabad,Dhaka.
S.L NO. 20
Digital Topography Land Survey & Contour Survey,GIS MAP, and Earth Volume, Project Dhaka Central Jail from Keraniganj,Dhaka.
37.53 acre
Public Works Department (PWD)
S.L NO. 21
Digital Topography Road Survey, Contour Survey GPS MAP, Earth Volume, Project Dhaka Central Jail from Keraniganj,Dhaka
7.200 Km.
Public Works Department (PWD)
S.L NO. 22
Digital Topography Road Survey & Cross Section, Earth Volume, Project Jatrabari Circle to Spree Spree Mandir at Jatrabari, Dhaka.
2.3 Km.
Dhaka South City Corporation (DSCC) Zoon -05,Saydabad,Dhaka
S.L NO. 23
Route Survey & GPS Survey from Kanchan Bridge to Banani Substation 132/33 kv Line
15.25 Km
BNF Engineers Ltd.
LS CABLE & SYSTEM LTD.
S.L NO. 24
Digital Topography Land Survey, Contour survey, GIS map and Earth Volume for Proposed Project at Rupgonj, Narayangonj.
167.300
Bigha
Sumona Housing Ltd.
S.L NO. 25
Route Survey & GPS Survey from Chankhar Pul to Hatir jheel Substation 132/33 kv Line.
14.700 Km.
BNF Engineers Ltd.
LS CABLE & SYSTEM LTD.
S.L NO. 26
Route Survey & Long Profile, GPS Survey from Kamrangirchar Substation to Zigatola Substation 132/33 kv Line.
8.900
Km.
BNF Engineers Ltd.
LS CABLE & SYSTEM LTD.
S.L NO. 27
Route Survey & GPS Survey from Purbachal PGCB to Banani Desco Substation 132 kv Line.
15.850 Km.
BNF Engineers Ltd.
LS CABLE & SYSTEM LTD.
S.L NO. 28
Column/ Pile Layout Per Drawings at Plot-1/B, Road-51, Gulshan-1, Dhaka.
N/A
Business DEAL
S.L NO. 29
Details Digital Topographical Land Survey,Digitized Map,GPS & Leveling Survey at Savar, Dhaka.
37.169 Bigha
C.R.P. AUTHORITY
S.L NO. 30
Route Survey & GPS Survey from Jigatola to Dhaka Uddan 132/33 kv Line.
5.751 km.
Public Works Department (PWD )
S.L NO. 31
Digital Topography Land Survey, Contour survey, GIS map and Earth Volume for Proposed Project at Central Jail Keraniganj.
471.200 Bigha
Public Works Department (PWD)
S.L NO. 32
Digital Topography & Contour Survey at Nagori Kaliganj, Gazipur, Bangladesh.
23.500 Bigha
PURBACHAL APPAREL LIMITED.
Univend Structural Steel Ltd.
S.L NO. 33
Digital Topography & Contour Land Survey at Sreemangal, at Moulvi Bazar
4.6 acre
Space Architecture Engineer Ltd.
S.L NO. 34
Route Survey& Contour Survey ,GPS Survey,GIS Map from Purbo Sadipur to Barapukuria
45.45 Km.
Power Grid Company of Bangladesh (PGCB)
S.L NO. 35
Digital Topography Land Survey & Contour Survey, GPS Survey at Habiganj, Sylhet.
41.500 Bigha
Squire Group
S.L NO. 36
Building Column/ Pile Layout Per Drawings at Konabari Road,Gajipur.
N/A
Business DEAL
S.L NO. 37
Digital Topography Land Survey, Contour survey, GIS map and Earth Volume (primary school ) at Bhola
526.200 Bigha
Local Government Engineering Department ( LGED )
S.L NO. 38
Digital Topography Bazar Survey, Contour survey,GPS Survey, GIS map,( Bazar Survey ) at tala upazila, satkhira.
N/A
Local Government Engineering Department( LGED )
S.L NO. 39
Building Column/ Pile Layout Per Drawings at Habigang Bypass Road Sylhet.
N/A
Magnum Engineering & Construction Ltd.
Squire Group
S.L NO. 40
Digital Topography Land Survey, Contour survey, GIS map and Earth Volume for Proposed Project at Gazipur For Mayor Mojibur Rahman.
7 Bigha
Mayor Mojibur Rahman
S.L NO. 41
Building Column/ Pile Layout Per Drawings at Jessore
N/A
NSC International
S.L NO. 42
Building Column/ Pile Layout Per Drawings at Pabna
N/A
Squire Group
S.L NO. 43
Digital Land Survey for Proposed Brick Field Project at Naogaon,
9.600 Bigha
Bangladesh For MBF Briks
S.L NO. 44
Digital Topography Land Survey, Contour survey, GIS map and Earth Volume for Proposed Project at Patuakhali
46.500 Bigha
Levu Khali Auto Bricks
S.L NO. 45
Route Survey,& GPS Survey from Khalispur Power House To Khulna South Sub-Station for JV China National Electric Wire & Cabule Lmp/. Corporation & Jiangsu,
15.400 Km.
Corporation & Jiangsu
S.L NO. 46
Digital Topography Survey,GPS Survey, & Cross Section at Square to Modina Market Point , Sylhet.
12.850 km.
Dhaka Designer
Sylhet City Corporation (SCC)
S.L NO. 47
Route Survey & GPS Survey from Manik Nagor Sub-Station to 132/33 kv Line
7.700 Km.
BNF Engineers Ltd.
LS CABLE & SYSTEM LTD.
S.L NO. 48
Building Column/ Pile Layout Per Drawings at Dinajpur
N/A
BNF Engineers Ltd.
S.L NO. 49
Digital Topography Road Survey,GPS Survey, & Cross Section at to , Siri Siri Mandir
167.300 Bigha
Sumona Housing Ltd.
S.L NO. 50
Digital Topography Canal Survey & Road Survey,GPS Survey, & Cross Section at Damra Road to Buriganga River
15 .300 Km.
Dhaka South City Corporation Zone-05 (DSCC)
S.L NO. 51
Digital Topography Land Survey, Contour survey, GIS map and Earth Volume for Proposed Project at Rupshi, Rupganj ,Narayanganj for
47.300
Bigha
Islam Group
S.L NO. 52
Digital Topography Land Survey, Contour survey , Building Column/ Pile Layout Per Drawings at Dinajpur
N/A
Business DEAL
S.L NO. 53
Digital Topography Land Survey, Contour survey, GIS map and Earth Volume for Proposed Project & Demarcation Layout at Patiya Chattogram.
130.300
Bigha
Md.Motaleb Gong
S.L NO. 54
Building Column/ Pile Layout Per Drawings at Khulna
N/A
ENGINEERS CONSORTIUM LTD.
S.L NO. 55
Digital Topography Land Survey, Contour survey, GIS map and Earth Volume for at Gajipur
25.300 Bigha
Md. Monirul Islam
S.L NO. 56
Digital Topography Road Survey,GPS Survey, & Cross Section at Jatra Bari to Kismat Market
4.00 Km.
Dhaka South City Corporation Zone-05 (DSCC)
S.L NO. 57
Digital Topography Road Survey,GPS Survey, & Cross Section at Jatra Bari to Mannan High School and College
2.400
Km.
Dhaka South City Corporation Zone-05 (DSCC)
S.L NO. 58
Digital Topography Road Survey,GPS Survey, & Cross Section at Jatra Bari to Jurain
2.700
Km.
Dhaka South City Corporation Zone-05 (DSCC)
S.L NO. 59
Digital Topography Survey, Contour Survey, river cross section,GPS map, mouza map Survey, and Earth Volume for Project at Bagerhat Khulna.
117.200
Bigha
Roads and Highways Department ( RHD )
S.L NO. 60
Digital Topography Road Survey,Bridge Survey, Contour Survey, GPS MAP, Earth Volume, river cross section,GPS map, mouza map Survey, Project at Sylhet king Bridge to Sutarkandi Border
43.300
Km.
Roads and Highways Department ( RHD )
HIFAB International Pty. Ltd.
S.L NO. 61
Digital Topography Survey & Road Survey,GPS Survey, & Cross Section at Uttara
10.600
Km
Dhaka North City Corporation Zone-01 (DNCC)
S.L NO. 62
Building Column/ Pile Layout Per Drawings at Omc Bazar ,Gajipur
N/A
Business DEAL
S.L NO. 63
Building Column/ Pile Layout Per Drawings at Dinajpur
N/A
Rahman Ckemicals Limited
S.L NO. 64
Digital Topography Road Survey & ,GPS Survey, & Cross Section at Mirpur
13.600
Km
Dhaka Water Supply Authority (WASA )
S.L NO. 65
Digital Topography Land Survey, Contour survey, GPS map and Earth Volume for at Sonargaon, Narayangonj
79
Bigha
Eng.Abul Kalam Azad
S.L NO. 66
Digital Topography Land Survey, Contour survey, GPS map and Earth Volume for at Madonpura,Gajipur
18.300
Bigha
DHAKA DESIGNER
S.L NO. 67
Digital Topography Land Survey, Contour survey, GPS map and Earth Volume for at Rampura Kaca Bazar
35.300
Katha
TRINITY` REAL STATE LTD.
S.L NO. 68
Digital Topography Road Survey & ,GPS Survey, & Cross Section at Mohammadpur
11.500
Km
Dhaka North City Corporation Zone-05 (DNCC)
S.L NO. 69
Digital Topography Land Survey, Contour survey, GPS map and Earth Volume for at Beanibazar,Sylhet
18.300
Bigha
Md.Motiur Rahman
S.L NO. 70
Digital Topography Land Survey, Contour survey, GPS map and Earth Volume for at Uttar Hazipur(Balabari), Taraganj, Rangpur
12.676
Bigha

ARISTOCRAT Builders Ltd.

S.L NO. 71
Interior Digital Topographic Survey at 22/58 Kanchpur, Sonargaon, Narayangonj,Dhaka.
2.6 Bigha
Esquire Group
S.L NO. 72
Digital Topography & Contour Survey,GIS map at Barasur, Kashiani, Gopalgonj.
105 Acre
Rumi Fish Feed Industries Ltd.

CSD Engineering Limited

S.L NO. 73
Interior Digital Topographic Survey at Dhaka- Mymensingh Hwy Road.
3.5 Bigha
Fu-Wang Ceramic Industry Ltd.
S.L NO. 74
Digital Topography & Contour Survey at Gochinga, Sreepur, Gazipur.
37.325 Bigha
Anoara Knit Composite Limited
CIVICON ENGINEERING
S.L NO. 75
Digital Topography & Contour Survey at Adamjeenagar, Siddirganj, Narayanganj.
3.4 Bigha
Checkpoint Systems Bangladesh Ltd.
S.L NO. 76
Digital Topography Road Survey from Chakrampur GC to Kalirbazar GC Road. At Trisal, Mymensingh.
11.710 Km.
Local Government Engineering Debartment (LGED)
S.L NO. 77
Digital Topography Survey &
Contour Survey,GIS map at Gagipur.
90.720 Bigha
Venessa Enterprise Ltd.
DHAKA DESIGNER ASSET MANAGEMENT LIMITED
S.L NO. 78
Transmission Line Survey, Topography Survey, Contour Survey ,GPS Survey from Ower Shifting Project Rajuk Jhilmil Project,Tower no-07 to Tower-15,
2235.841m.
Power Grid Company of Bangladesh (PGCB)
S.L NO. 79
Building Column/ Pile Layout Per Drawings at Adamjeenagar,Siddirgang, Narayanganj-1431.
N/A
Checkpoint Systems Bangladesh Ltd.

CSD Engineering Limited

S.L NO. 80
Digital Topography Road Survey & Long Profile, Gulshan
7.200
Km
Dhaka Water Supply Authority (WASA )
S.L NO. 81
Digital Topography Survey & Contour Survey,GPS map at South Panjora,Ward #05,
Nagori Kaliganj,Gazipur bangladesh.
30.00 Katha

PURBACHAL APPAREL LIMITED.

S.L NO. 82
Digital Topography Survey & Contour Survey,GPS map at
5.00
Bigha
Bangladesh Parjatan Corporation ( BPC )
S.L NO. 83
Digital Topography Land Survey, Contour survey, GPG map and Earth Volume for Proposed Project at Patenga Sea Beach, Chattagram
96.300
Bigha

Bangladesh Parjatan Corporation (
BPC )

S.L NO. 84
Floor Area Survey of 06th Storied
06 nso.
Dil Afroz Begum
S.L NO. 85
Building Column/ Pile Layout Per Drawings at Kolapara ,Patuakhali
Saurav Das
S.L NO. 86
Digital Topography Land Survey, Contour survey, GPG map and Earth Volume at Mouza –Joar Lakkhipur, Belbo,Norsindhi.
9.563
Bigha
R R P FIDDM MILL LTD.
S.L NO. 87
Digital Topography Land Survey, Contour survey, GPG map and Earth Volume At Churhal Bazar,Sadar Mymensingh-2200
31.450
Katha
S.ALAM DESIGN & CONSTRUCTION LTD.
S.L NO. 88
132kv Transmission Line Survey, Topography Survey, Contour Survey ,GPS Survey from Mostafapur to Gopalganj
43.400
Km.

Power Grid Company of Bangladesh (PGCB)

S.L NO. 89
Column/ Pile Layout Per Drawings ,Floor Level, How to Check Level of Shuttering Slab Casting at Konabari,Gajipur.
N/A
Business DEAL
S.L NO. 90
Digital Topography Road Survey,Level Survey, & Cross Section at (01) Nandipar Bazar to Trimohini Bazar to (2) Balur par to Kayes Para,Khilgaon,Dhaka.
6.200
Km.
Dhaka South City Corporation Zone-03 (DSCC)
S.L NO. 91
Column/ Pile Layout Per Drawings
Chttogram
N/A
ENGINEERS CONSORTIUM LTD.
S.L NO. 92
Digital Topography Land Survey, Contour survey, GPG map and Earth Volume at Baridhara-DOHS
192.300
Bigha
VOLUMATRIX LIMITED
S.L NO. 93
Column/ Pile Layout Per Drawings
Mc Bazar, Gazipur.
N/A
Maghna Composite
S.L NO. 94
Digital Topography Land Survey, Property Layout, Contour survey, GPG map and Earth Volume at Bashundhara, Vatara.
10.563
Bigha
Md.Shahidul Islam
S.L NO. 95
Digital Topography Land Survey,Property Layout, Contour survey, GPG map and Earth Volume at Administrative Area Agargoan sher-e-Bangla Nagar. (W-25) Muktijoddha Jadugar in Front
12.563
Bigha
Dhaka North City Corporation Zone-05 (DNCC)
DevConsultants limited
S.L NO. 96

River Cross
Section, Pre-Work & Post Work at Project Name- Charal Kata Jomunessori
Nadi, Nilphamari

25.00
Km.
Bangladesh Water Development Board ( BWDB )
S.L NO. 97
Digital Topography Land Survey,Property Layout, Contour survey, GPG map and Earth Volume at Administrative Area Agargoan sher-e-Bangla Nagar. (W-23) ICT in Front
10.700
Bigha
Bangladesh Water Development Board ( BWDB )
S.L NO. 98
Digital Topography Land Survey, Contour survey, GPG map and Earth Volume at Khatian No- RS-2838 J.L-75, Mouja-Somrasherabad,Noyakhali Lakshimipur
62.200
Katha
Nirman Prokoushal Upadesta Ltd
S.L NO. 99
Digital Topography Land Survey, Contour survey, GPG map and Earth Volume at Mouja-Bansa Nagor, Laxmipur.
Dag-5019, Khotian No-8375 & 8376
41.00
Katha
Nirman Prokoushal Upadesta Ltd
S.L NO. 100
Column/ Pile Layout Per Drawings ,Floor Level, How to Check Level of Shuttering Slab Casting at Anggarjur, Beanibazae,Sylhet.
N/A
Kushiyara Auto Bricks Ltd.
S.L NO. 101
Pre-Work & Post-Work, Column/ Pile Layout Per Drawings ,Floor Level, How to Check Level of Shuttering Slab Casting at Patuakhali,Payra Nevi Cantonment .
N/A
Rabeya Enterprise Ltd.
S.L NO. 102
Digital Topography Land Survey ,Pre-Work & Post-Work, Column/ Pile Layout Per Drawings ,Floor Level, How to Check Level of Shuttering Slab Casting at Gulsan-02
N/A
Business DEAL
S.L NO. 103
Digital Topography Land Survey ,Pre-Work & Post-Work, Column/ Pile Layout Per Drawings ,Floor Level, How to Check Level of Shuttering Slab Casting at Chittagong University Of Engineering & Technology ( CUET )
ENGINEERS CONSORTIUM LTD.

BANGLADESH HI-TECH
PARK AUTHORITY

S.L NO. 104
(A)Digital Topography Road Survey ,Pre-Work & Post-Work, Improvement & Construction of Road With Spacious Pipe Drain & Footpath at Uttara Sector-04,Shayesta Kha Avenue East end to Sector-06,Esha Kha Avenue (Package-W-07 )
10.200
Km.
Dhaka North City Corporation Zone-01 (DNCC)
DevConsultants limited
S.L NO. 105
Digital
Topography Road Survey
, Pre-Work & Post-Work,
(A)
= Improvment Of Road, Drain, Footpath & Median from Mahaboob
Morshed Sarani to Science
Museum Gate
at Administrative area Agargoan
sher-e-Bangla Nagar.
(B)= Fron Mahbub Morshed Sarani to RAB-2 office
via Girls College at Muktijoddah Meseum
cultural College at Agargoan
Sher-E-Bangla Nagar.
(C )Form Mahaboob Morshed Sarani to
Social Welfare Adhaidaptor ( In front of pass Port office Road ) at
Administrative Area Agargoan
sher-E-Bangla Nagar. ( Package No W-30)
17.00
Km
DevConsultants limited
DevConsultants limited
S.L NO. 106
(A)Digital Topography Road Survey ,Pre-Work & Post-Work,
Improvement Of Road,Drain,Footpath & Median Mahboob
Morshed Sarani To Cultural College Via Islamic foundation at
Administrative area Agargoan, Sher-E-Bangla nagor, Dhaka.W-23
21.587
Km.
Dhaka North City Corporation Zone-05 (DNCC)



DevConsultants
limited

S.L NO. 107

(A)Digital
Topography Road Survey
,Pre-Work & Post-Work,
Improvement Of Road, Drain, Footpath
IMPROVEMENT
OF ROAD INFRASTRUCTURE AND
DRAINAGE SYSTEM
OF NEWLY ADDED NASIRABAD,
DAKHINGAON,
DEMRA AND MANDA AREA

12.00
Km.


Dhaka South City Corporation
Zone-03 (DSCC)

S.L NO. 108
Digital Topography Land Survey, Pre-Work
& Post-Work, Column/ Pile Layout Per Drawings, Floor Level, How to Check
Level of Construction of 2-Storied packing expansion Project at Dogory, Mirjapur,
Gazipur.
N/A
KDS Accessories Ltd.


Steel Task Limited

S.L NO. 109
Digital Topography Road Survey, Level
Survey, & Cross Section at
(01)Development of Bypass Road From Demra Stuff Quarter to Latif
Bawani Jute Mill Gate No.22 & Kamargoap Graveyard to Stuff Quarter.(02)
Haji market to basabo
7.375
Km.
Dhaka South City Corporation Zone-03 (DSCC)
S.L NO. 110
Digital Topography Road Survey, Level Survey, & Cross Section & Volume Calculation at
Road development work from Dakshingao Union Nandipara Bridge from Taheri Madrasa Road Under Zirani Khal Neair Trimohoni Maine Road, Lane & By Lane (package No-05 )
1


13.550
Km.



Dhaka South City Corporation
Zone-03 (DSCC)

S.L NO. 111
Digital Topography Road Survey,
Level Survey, & Cross Section & Volume Calculation at
Package - 11, Development Of Road
And Construction
Deep Drain Under Dakhingaon Union
From
Nandipara Bridge To Demra Meradia
Link Road,Nandipara Bridge To Mostamaji Mor,Nandipara Bridge To Tirimohoni
Bridge
Via Sheker Jaga. Newly Added Nasirabad,

19.860

Dhaka South City Corporation
Zone-03 (DSCC)
S.L NO. 112

Digital Topography Road Survey
& Cross Section & Volume Calculation at Bangladesh Inland Water Transport
Authority.(BIWTA)Topographical Survey Construction Of Walkway and Bank Protection on Shibchar
(Maynakata River) start point Sheikh
hasina Bridge to Jaduarchar Bridge.



13.600
Km.



Bangladesh
Inland Water Transport Authority. (BIWTA)

S.L NO. 113
Digital Topography Land Survey
,Pre-Work & Post-Work,Volume Calculation 33/11KV,2X10/13.33 MVA,
Sub-station survey,Tarakanda, Churkhai, Rahmatpur,Gabindapur ,Char Iswardia,
Nabi Nagar,


06 Nso


Bangladesh Power Development
Board (BPDB)

S.L NO. 114
Digital Topography Survey & Contour Survey, Pre-Work & Post-Work,Volume Calculation GPS map at Ashuganj, B.Baria,Dhaka to sylhet highway side Project.


36.00 Bigha


Bangladesh Power Development
Board (BPDB)

S.L NO. 115

Digital Topography Survey & Contour Survey,
Pre-Work &Volume Calculation GPS map, Construction of intake pump house
at pre-sedimentation basin, river intake, 218 m3 Portable
treatment Plant, pre-sedimentation tank, Boundary wall of
SWTP.at Cox's Bazar city and surrounding
areas(EAP/DPHE/W-11),Ukhya
Cox Bazar.



18.50 Bigha


SR Corporation & Solar
Electro Bangladesh Ltd.

S.L NO. 116

Digital Topography Survey & Contour Survey,
Pre-Work &Volume Calculation GPS map, Design, Supply, Install, Test,
Commission, Operation & Maintenance of
Faceal Sludge & Segreated Solid Waste Treatment Plant, Kutupalong,
Ukhya, Cox bazar.





7.0 Bigha


SR Corporation & Solar
Electro Bangladesh Ltd.

S.L NO. 117

Digital Topography
Land Survey, Contour survey, GIS map and Earth Volume, GPS Map, (primary
school ) at Patuakhali & Barguna Distructs



200
Nso.


Local Government Engineering
Department ( LGED )

S.L NO. 118

Digital Topography Land Survey, Contour survey, GIS
map and Earth Volume, GPS Map, Dipu Office, Kandila, Dhaka Tangail Bypass,
Tangail.


17.400 Bigha


RENATA LIMITED.

S.L NO. 119

Digital Topography Land Survey & Contour Survey,
Pre-Work & Post-Work, Volume Calculation GPS map, Column/ Pile Layout Per
Drawings, Floor Level, How to Check Level of Construction & Soil
Investigation at Rajbari Project




105.500 Bigha


SR Corporation & Solar
Electro Bangladesh Ltd.


ASXIS TECH
Engineering Construction Consultant Service

S.L NO. 120
(A)Digital Topography Road Survey ,Improvement of Roads and Construction of Drain and Foothpath at Niketon Housing Complex Road No-1,2,3,4,5,5/1,6,6/1 & Mosque Road Under (package No-20 )
07.600
Km.
Dhaka North City Corporation Zone-05 (DNCC)
DevConsultants limited
S.L NO. 121
Permanent Bench Mark (BM) [Reference from SOB,PWD, pillar], Temporary Bench Mark (TBM)
Topographic Survey
bridge length/bridge width
Abutment Wall, Wing Wall, Location of Pier Pile Cap, Girder, bridge top RL, Bridge Bottom RL, H.F.L and N.F.L Canal Cross Section
Soil Test
Layout Survey at Pabna



5.00 Nso.



Local Government Engineering
Department ( LGED )

S.L NO. 122
Digital Topography Land Survey, Contour survey, GPS map and Earth Volume for at Mouchak Road, Mizmizi,
Siddirgonj. Narayangonj, Dhaka.
241.800
Bigha
Alam Soap Factory Ltd.
S.L NO. 123
Digital Topography Land Survey, Contour survey, GPS map, Pre-Work & Post-Work, and Earth Volume, Column/ Pile Layout Per Drawings ,Floor Level, How to Check Level of Shuttering Slab Casting at Nanpura,Gazipur,Dhaka.
243.500
Bigha
Hongkong Shanghai Manjala Limited
S.L NO. 124
Digital Topography Land Survey, Contour survey, Mouza Map Survey, GPS map, Pre-Work & Post-Work, and Earth Volume at Kalibari Link Road, Pachrukhi, Araihazar.
25.320
Bigha
Mithela Textile Industries Ltd.
S.L NO. 125
Column/ Pile Layout Per Drawings, Floor Level, How to Check Level of Shuttering Slab Casting at Kalibari Link Road,
Pachrukhi, Araihazar.
N/A
Mithela Textile Industries Ltd.
S.L NO. 126
Column/ Pile Layout Per Drawings, Floor Level, How to Check Level of Shuttering Slab Casting at Gulshan-2
N/A

Dekko
Group

S.L NO. 127
Digital Topography Land Survey, Contour survey, GPS map, Pre-Work & Post-Work, and Earth Volume, Column/ Pile Layout Per Drawings ,Floor Level, How to Check Level of Shuttering Slab Casting at GobindaBari, Kasimpur.
31.200
Bigha
Rich Cotton Limited
S.L NO. 128
Digital Topography Road Survey , Cross Section ,Pre-Work & Post-Work,
Improvement of Roads & Construction of Drain
Footpath at Tajgon Area at H/N:348/A to Chitdren family,Nakal Para 431/1to Tejgaon 416/1 to H/N:416/1 to Bg press,H/N: 360 to phonix Tower,H/N:248/3 to City Filling Station & H/N:403 to Central Medical Store. (Package No W-17),(Package No W-18). (Package No W-19).
17.900
Km.
Dhaka North City Corporation Zone-03 (DNCC)
DevConsultants limited
S.L NO. 129
Digital Topography Road Survey , Cross Section ,Pre-Work & Post-Work,
Improvement of Roads & Construction of Drain &
Footpath at Chad Uddan, Shopno Dhara Housing,Chandrima Model Town & Dhaka Uddan
Under Ward no-33 Road.(Package No W-41) ,(Package No W-40).
8.300
Km.
Dhaka North City Corporation Zone-03 (DNCC)
DevConsultants limited
S.L NO. 130
Digital Topography Land Survey, Contour survey, Mouza Map Survey, GPS map, Pre-Work & Post-Work, and Earth Volume Column/ Pile Layout Per Drawings, at
Shirir Chala, Bhabanipur, Bagher Bazar,Gazipur Shader,Gazipur.
N/A
Evince Textiles Ltd
S.L NO. 131
Column/ Pile Layout Per Drawings, Floor Level, How to Check Level of Shuttering Slab Casting at Kalibari Link Road,
Pachrukhi, Araihazar.
N/A
Mithela Textile Industries Ltd.
S.L NO. 132
Digital Topography Land Survey, Contour survey, Mouza Map Survey, GPS map, Pre-Work & Post-Work, and Earth Volume at
Gopalpur Panch Bibi , Joypurhat.
52.500
Bigha
M/S Nivan Fisheries
S.L NO. 133
Digital Topography Land Survey, Contour survey, Mouza Map Survey, GPS map, Pre-Work & Post-Work, and Earth Volume Column/ Pile Layout Per Drawings, at
Hazirbazar,Vhaluka.
84.00
Bigha
Taipei Bangla Fabrics Ltd.
S.L NO. 134
Digital Topography Land Survey, Contour survey, Mouza Map Survey, GPS map, Pre-Work & Post-Work, and Earth Volume Column/ Pile Layout Per Drawings, at
Gazipua.
N/A
china harbour engineering company bangladesh ltd
S.L NO. 135
Digital Topography Land Survey, Contour survey, Mouza Map Survey, GPS map, Pre-Work & Post-Work, and Earth Volume at Bhabanipur, Bagher Bazar,Gazipur Shader,Gazipur.
48.300 Bigha
Evitex Dress Shirt Ltd.
S.L NO. 136
Column/ Pile Layout Per Drawings, Floor Level, How to Check Level of Shuttering Slab Casting at Beltiabari, Tangail.
N/A
Renata Limited
S.L NO. 137
Digital Topography Land Survey, Contour survey, Mouza Map Survey, GPS map, Pre-Work & Post-Work, and Earth Volume at Bhabanipur,Gazipur Shader,Gazipur.
75.300 Bigha
Evitex Apparels Ltd.
S.L NO. 138
Digital Topography Land Survey, Contour survey, Mouza Map Survey, GPS map, Pre-Work & Post-Work, and Earth Volume at Beltiabari, Tangail.
5.00 Bigha
Renata Limited
S.L NO. 139
Column/ Pile Layout Per Drawings, Floor Level, How to Check Level of Shuttering Slab Casting at Bhabanipur,Gazipur Shader,Gazipur.
N/A
Enam Labels Limited Factory
S.L NO. 140
Digital Topography Land Survey, Contour survey, GPS map, Pre-Work & Post-Work, and Earth Volume at Mymensingh.
Eight power substation
(125.500 Bihga)
Bangladesh Power Development Board (BPDB)
S.L NO. 141
132/33 Gride Sub-Station,Digital Topography Land Survey, Contour survey, GPS map, Pre-Work & and Earth Volume at Chawala, Narshindi.
6.200 Bigha
Power Grid Company of Bangladesh (PGCB)
S.L NO. 142
S.L NO. 143
S.L NO. 144
S.L NO. 145
S.L NO. 146